- Sulawesi, Indonesia-
Coral Reef Care plans to start reef conservation projects in Sulawesi. 6 different potential project areas were defined the last 2 years, contacts were laid and the visit and survey is ongoing as we speak. It already led to the first coral restoration project in Central Sulawesi, near the city of Palu.The marine area in Palu Bay has been hit hard by the 2019 earthquake that also caused a Tsunami. Many of the reefs near the city of Palu are destroyed and with it, part of the city infrastructure. In the Palu waters there are many silent witnesses e.g. furniture, complete office archives, remains of houses.The sea floor is dominated by loose coral rubble covered by sand and algae, which prevents coral larvae to settle. Combined with the fishing pressure it is not likely these reefs will recover by themselves. Several efforts were made to restore the reefs with artificial structures, but there is a lack of knowhow and financial support.
We made a restoration plan that includes several training sessions with our new local partner Seangle Indonesia and the local fishermen. Firstly, we will improve the existing artificial structures in 3 major areas in the bay. Secondly, we will start producing and deploying the structures like we make in Bali. We will also seek protection for the conservation area like we successfully did in Bukti and Pemuteran (Bali).
- Palu, Sulawesi, mangroves -
More than 80% of the Palu coral reef is gone due to the Tsunami. Most probably mortality was increased by high levels of sedimentation, that can cause suffocation of coral polyps. We believe the loss of important mangrove areas after the Tsunami has increased sedimentation.The roots of the mangroves hold a lot of sand and thrive on muddy areas. Seangle is successfully restoring 3 large mangrove forests near the coral restoration areas; a project in which we might collaborate as well. Mangroves are important nursery grounds for many reef fish so it has a direct relationship with our conservation work. They are also one of the top carbon-sequestering eco-systems on Earth, capturing 5 times more CO2 than rainforests.
- Bali - new projects Bondalem and Sukadana -
As announced in our last newsletter, our 1st artificial reef in Bondalem has been deployed last month. The project was opened in the traditional Balinese way i.e. with a ceremony to the God of the Oceans Baruna and speeches by local and regional officials and of course by Rolf, who made an attempt this time in Indonesian!The team of partner Pokmaswas Pantai Desa Bondalem was assisted by Rolf and Ketut during the deployment and we held several training sessions in Amed and Bondalem on coral transplantation and maintenance. In 2 weeks from now the artificial structures have 'cured' enough in the ocean and coral transplantation can begin.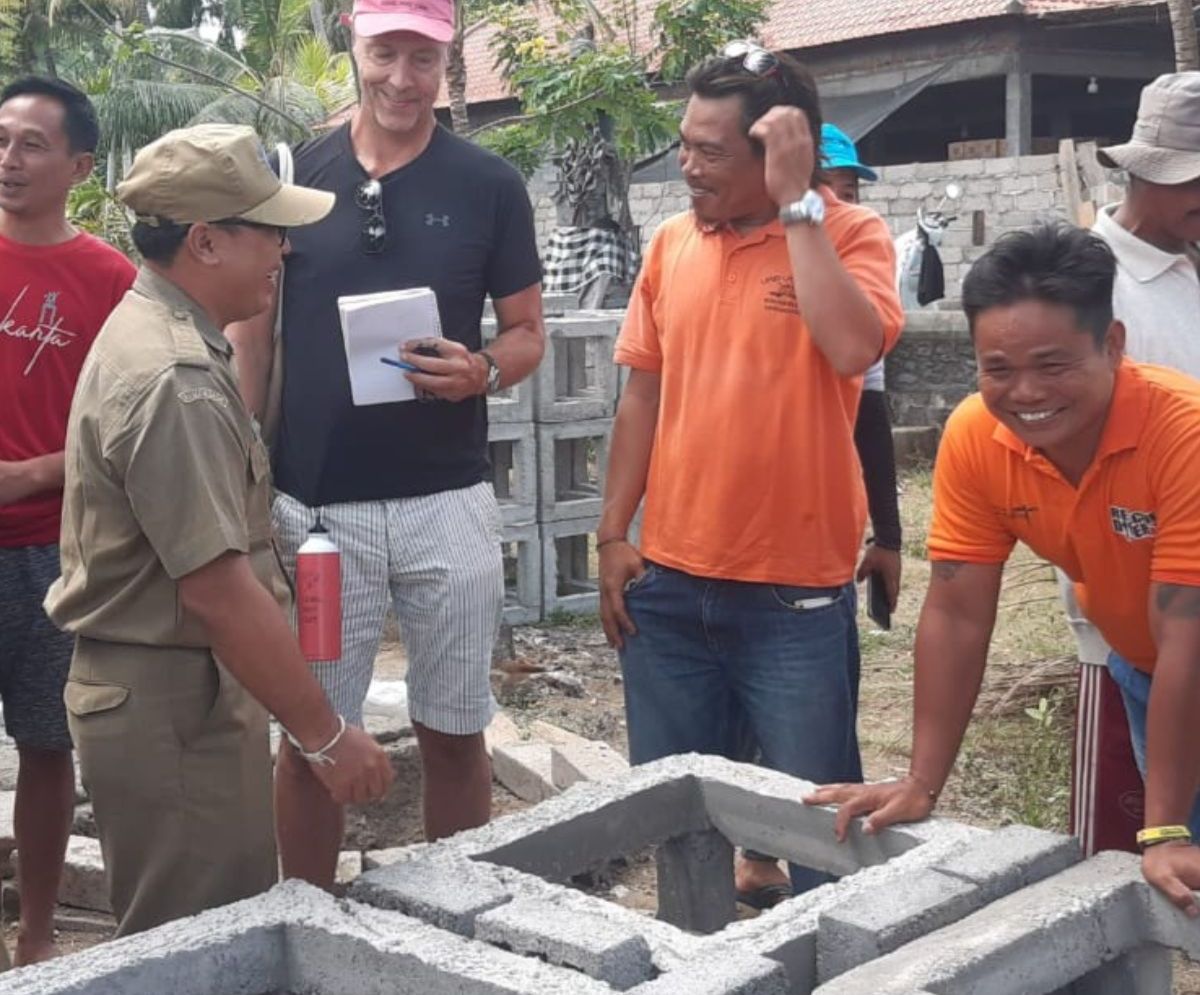 Meanwhile, the fishermen of Bondalem continue producing artificial structures for the next restoration area and for the nearby village Sukadana. In Sukadana we will use the structures as anchors for buoys to mark the newly protected marine area. Besides that, the structures will be used as substrate for coral transplants.
- Indonesia: our current projects (Bali) -
You might have seen the video on Instagram showing the results in Jemeluk and Lipah (Amed). There is a substantial increase of marine life regarding biodiversity as well as biomass. The reef went from practically no life to uncountable life.The latest good news is that on 2 of our first artificial reefs a lot of coral recruits have attached naturally and started growing. We were expecting this but to see this many natural settlements on our structures is more than a nice surprise and a crown on our work. With the natural settlements, a new phase begins for the 8 resp. 10 months old projects. Maintenance and cleaning of the structures is required less and soon we can hand over the area to Mother Nature entirely, without any further future human interventions.
With special thanks to our partners:
Bahari Hai - Cordio East Africa - MudfishNoPlastic - Oceans Alive Kenya - Perkumpulan Pemandu Penyelam Amed - Pokmaswas Pantai Bondalem - Pokmaswas Satya Bahari Desa Bukti - Sahabat Alam Pemuteran - Seangle Indonesia