- Indonesia - new projects in Bali -
Last June we started a new coral conservation project in Bondalem and we are preparing a new project in Sukadena. Both villages are situated in the north of Bali. Bondalem is a reef restoration project in collaboration with Pokmaswas Pantai Bondalem. Like Jemeluk and Lipah we will be deploying artificial structures on badly damaged or fully destroyed reefs. On these structures coral fragments will be attached. The destruction of the reefs was caused by dynamite and cyanide fishing a long time ago. These practices are banned in the region and no threat for our new reefs anymore. The first 200m2 artificial reef will be deployed end of August.
Sukadena is similar to our Bukti project i.e. protecting and patrolling a large reef area with and by the fishermen. Ketut Gina has taken this project under his wings. Ketut also coordinates the Jemeluk, Lipah and Bukti projects.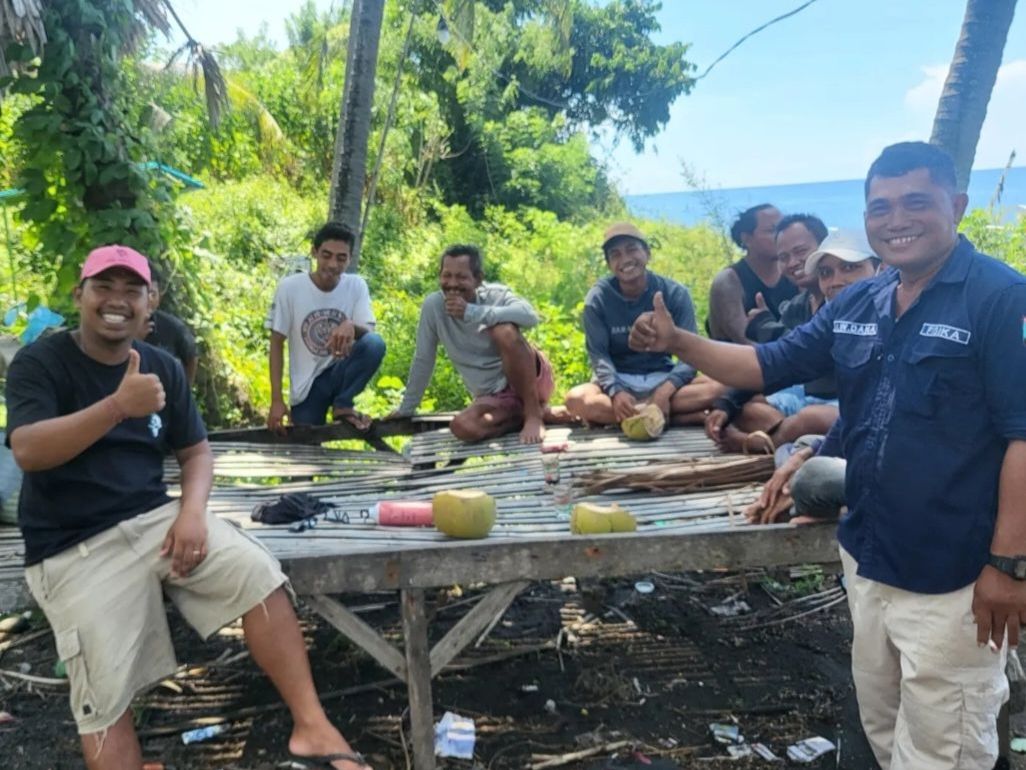 - Indonesia: our current projects (Bali) -
Last month in both Jemeluk as in Lipah artificial reefs were deployed on the 3rd designated restoration areas. The Jemeluk and Lipah teams keep the same pace more or less, collaborate a lot and share experiences. Until now, a total of almost 1200m2 reef was restored. Every month we plan to add approximately 300m2, and will do so at least for the coming 5 years.
In Bukti more than 26 hectares of reef is fully protected, patrolled and succesfully maintained by the fishermen. A new area of 5 hectares is in preparation and we expect to have protection for this reef by the end of 2022.
The Pemuteran project has re-started after a short stop due to new regulations. So far, a total of approximately 450m2 has been restored and this area has officially become a marine protected area. A coral farm is fully operational and produces approximately 400 'juvenile corals' per month. Awareness workshops with the focus on plastic pollution are given in all project areas. So far, our partner MudfishNoPlastic has given these workshops in Jemeluk, Lipah and Bukti.
- Biomass, biodiversity & artifical reefs -
Recently, more attention is given to artificial coral reefs in the media, which is very supportive for our cause. Our basic rule when making artifical reefs is to mimic the natural reef as best as possible. This has to be done with durable structures on which corals can attach and grow. In the starting phase of our projects we don't want to house large predators.These are just a few of the many factors we take into account in our designs. See for more details this research on our website. Basically, this all leads to designs of structures with small crevices and holes so juveniles and smaller herbivore fish can take refuge. We use local materials and create local jobs as an alternative income from fishing and to create ownership/awareness with the local community. Our designs are mostly modular and easy to replicate.We can proudly state that our apprach is very effective and efficient. With relative low funding we can regenerate entire dead zones into lively, biodiverse reefs. The increase of biomass is stunning, and of course very rewarding to our teams. Check out this video of one of our restoration sites in Lipah only 3 months after deployment.
-Teaching videos - coral conservation-
As mentioned in our last newsletter we have made instruction videos about our method of reef conservation. Final editing has been done and we published the videos on our website. More and more conservation projects are initiated by us and fortunately by many other NGOs and local communities. We hope these 7 short videos will support that process. (ps high resolution videos are available and recommended for larger screens) Hope you enjoy watching them!
With special thanks to our partners:
Bahari Hai Cordio East Africa MudfishNoPlastic Oceans Alive Kenya Perkumpulan Pemandu Penyelam Amed Pokmas Satya Bahari Desa Bukti Sahabat Alam Pemuteran